Introduction
There are many vacuum cleaners in the market, all with distinctive features and qualities. Many people have their requirements, and all of these vacuum cleaners seem to fulfill them in one way or another. The many attributes of vacuum cleaners include cord or cordless, bag or bagless, canister or upright, strong motor, large dust capacity, HEPA filtration, handheld conversion, weight, mobility, and so on. Some vacuum cleaners clean efficiently, but the main issue is that their motor makes a lot of noise. To decrease such noises, we use quiet vacuum cleaners.
What is a Quiet Vacuum Cleaner?
When you buy a vacuum cleaner with a strong motor, it usually makes a lot of noise, which may disturb all of your surrounding peers. Even though this noise's standard limit is said to be 80Db, it is not usually followed.
The quiet vacuum cleaners, as the name suggests, are quieter than most of their counterparts. Therefore, they do not create a lot of disturbance and are great to be used in offices, schools, homes, etc.
Since extra noise can be a hazard to your health, investing in a quiet vacuum is necessary. The advancement in technology has lowered the decibel to 67db that is quiet. Suppose your vacuum has a noise level of 70db; that is enough. This volume level will not disturb your neighbors, nor will startle your pets if you have any at home.
Quiet vacuum cleaners are the new market trend, and their demand has increased in recent years. Since 2013, these vacuums have been granted as the third biggest platform of the desired range of vacuum cleaners. The companies' main aim is to achieve a lower decibel level than a person's conversation volume. Many efforts are still being made in that direction to lessen noise pollution as much as possible.
How do Quiet Vacuum Cleaners Work?
Many great features are embedded in the vacuum cleaners, and changes are made frequently in them to increase their efficiency. The question arises of what kind of changes we have to make in a vacuum cleaner and what additions should be made to make the vacuum cleaner more silent. The answer is that we can make slight changes in many aspects of the vacuum cleaners to get a lesser volume of noise.
Some companies make changes in the floor nozzle and hose. They have ultra-quiet technology that maintains the suction power but makes relatively less noise on floors. The dust bag holder and motor filter also make a lot of noise. The addition of the Sound Shield technology seems to do the trick of lowering the decibel volume.   
Before, lowering the volume meant that the suction power was also effectively reduced, but now is not the case. The latest vacuum cleaners show exceptional deep cleaning on all surfaces. They are sealed shut and carefully suck allergens and pollutants from the air, filtering it properly.
Another technology, known as Silent Air Technology, is attached to quiet vacuum cleaners. This helps the vacuum cleaner achieve maximum performance while lowering noise levels.
Many latest versions of vacuum cleaners have efficient digital motors and engines in them. They also have fans that are used to suck air and lower the noise levels. Another way that sound levels increase is during suction. Rather than the motors, the air valves produce the sound. Many efficient air channels and valves are created that lower the decibel level.
How to Choose a Quiet Vacuum Cleaner?
There are many great features and technologies in the quiet vacuum cleaners that attract customers and are a great hit in the market. Some of the main points you should consider before buying a quiet vacuum are as follows:
Check the Decibel Rating: while buying a vacuum cleaner, the decibel rating is typically written on its box. The higher decibel rating means that a lot of noise is produced. Since decibel is a logarithmic unit, 85db is ten times louder than 75db. It would be best if you considered all the other requirements match with the decibel rating you desire.  
Powerful Suction: usually, a higher power suction means a stronger motor and more noise, and we don't want that. However, the latest models of quiet vacuum cleaners have strong motors with quieter volumes. It would be best to think of the places where you want to use your vacuum cleaners. Hard floors mean that a strong suction is not required. For carpeted floors, you should opt for a vacuum with multiple technologies to reduce noise.
Additional Accessories: some accessories such as powered nozzles have their engines and thus cause extra noise. If you don't have carpets in your homes, buying a vacuum cleaner with such accessories is unnecessary.
Absorbing Sound Waves: Another feature you should look out for is that the vacuums you use have insulation in them to reduce noise. This technique has been commonplace for a long time. It is no surprise that such an efficient technique is still in the market. Even though complete silence is not achieved with this method, a relatively quieter environment sure is.
Suspended Motors: suspended motors in the vacuum cleaners' bodies don't give any path for the sound to travel through. You can find this specification in some of the vacuums mostly built for sound reduction. It does not completely cut off the noise but considerably lowers the levels.
List of Best Quiet Vacuum Cleaners
Many best quiet vacuum cleaners have been released in the market, and their features are better than the latter. Below is a list of some of the best quiet vacuum cleaners.
Miele Compact C1 Pure Suction Powerline Canister Vacuum:
This model is mostly famous due to its compact size and increased mobility. It has a speed dial for adjusting the vacuum for different floor types. These tell us the varying power levels with noise levels ranging from 65db to slightly over 71 dB.
It has many additional tools that make cleaning stubborn crevices very easy. You can also dust furniture and stairs with these tools. This model is great for all floor types, such as smooth floors, low-pile carpets, and rugs.
It has a powerful motor that is great for sucking dirt, debris, and even pet hairs from floors. Despite this, having a low volume range of 65db.
Pros:
Lower than14.8 pounds.
Ability to clean all floor types such as hard floors, smooth floors, carpets, etc.
Clip-on tools for easy cleaning.
Clean Air Filter technology.
65-decibel noise level.
Cons:
It is a bagged vacuum, so you have to change bags regularly.
Not suitable for deep-pile carpets.
Electrolux Sanitaire SC3700A Quiet Clean Canister Vacuum:
This model has excellent suction power with a powerful motor for all floor types such as hard floors, carpets, rugs, and so on. It also has an advanced filtration system that is great for removing dust allergens, pollens, and contaminants from the air.
It has five types of great accessories that are great for cleaning every nook and cranny of the house. They can clean crevices, dust furniture, and reach tall places without any significant issues.
It also has an excellent dusting capacity of one pound. This greatly assists in deep cleaning for longer times before you need to clean them out. The design of the quiet vacuum cleaners is sleek and straightforward, which helps in cleaning the stairs.
Pros:
Noise level of 68db at maximum suction power.
HEPA filtration system for cleaning allergens from the air.
Long power cord for easy cleaning multiple rooms without unplugging them often.
Five different additional accessories for increased functionality.
 Great for both hard floors and carpets.
Sleek and slim black and red design.
The low weight of 23 pounds for increased mobility.
Cons:
Not suitable for cleaning deep-pile carpeting.
The power cord is not retractable.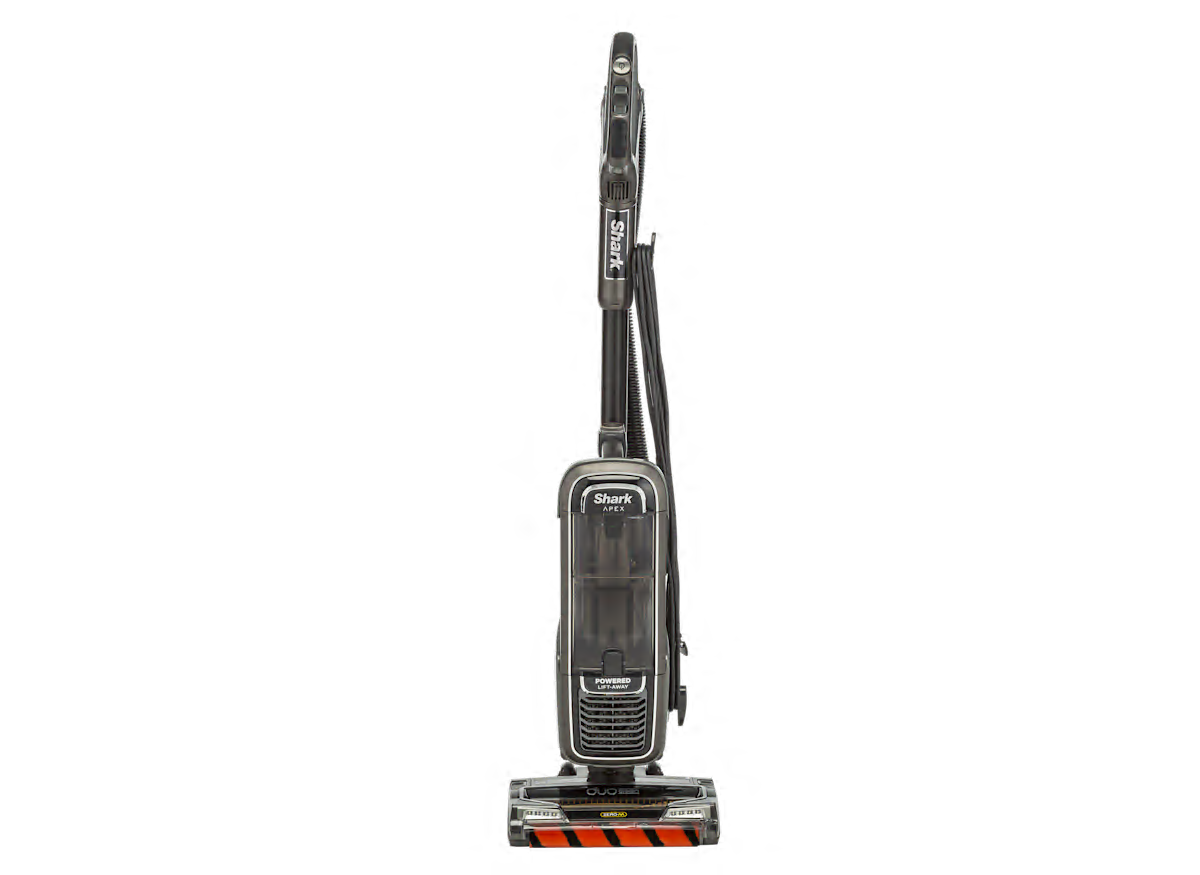 Shark APEX AZ1002 DuoClean with Self-Cleaning Brush:
This quiet upright vacuum cleaner has many versatile features that make it one of the most desirable market models. It has a lift-away pod that is great for cleaning hard-to-reach places such as the stairs, the corners of walls, sofas, etc. it is also convenient if you want to clean your car's seats.
Many additional accessories in this quiet upright vacuum cleaner UK make for a great cleaning experience. These accessories include different upholstery tools that are great for catching pet hairs from cushions and carpets. It also gives excellent filtration with the addition of the anti-allergen seal and the HEPA filter.
It has a noise level of 70db that is significantly less compared to the original noise that the vacuum cleaners make.
Pros:
The bagless model has a sealed design for allergens.
The lift-away pod is perfect for hard-to-reach corners and stairs.
The powerful motor of 1350 Watts.
Dusting capacity of 8.8 Quartz.
Cons:
Slightly heavy with a weight of 16 pounds.
Learning The Difference of the Quiet Vacuum Cleaner
One of the aims of a clean and green environment is reducing noise pollution. If we can do that by merely replacing the vacuum cleaners with a quiet vacuum cleaner, we should. They may cost a little more than the usual, but the investment is worth it with all of the great features that come with it.